For years I've been talking about working through my yarn stash. As stashes go, I don't think mine is very big, but I'm also someone who likes to keep things simple and it bothers me that there's all this yarn sat there, untouched and unloved! It's been a while since I looked through it all, so I thought I'd dig in and share with you what I have. I'm also hoping that this process will give me some inspiration for what I can cast on next.
The content of my stash is a bit of a mix. I have a fair amount of scrap yarn left over from various projects, and a few things from projects that I've frogged that I've yet to knit into something else. And then there are the purchases that I didn't think through – the yarns that I bought with no project in mind. These are the ones that I'm hoping to avoid in the future. Once I knit down my stash, I'm planning to purchase my yarn project by project, always knowing what I'll make with something before I bring it home with me. Now though, let's see what I'm working with…
Lauren Aston Designs Super Chunky
This is a frogged project, and one that took me a really long time to knit! I was working on it when I moved across the country a few years ago, and it was definitely slow to complete. It was a colour blocked, cropped raglan jumper and it was cute, but just not something that I ever really wore.
Stylecraft Batik DK
This is one of my impulse purchases. I ordered it online with a whole bunch of other stuff, and I never had anything in mind for what to make with it. A couple of years later, and it's still here!
Stylecraft Batik DK
I bought this alongside the lighter grey above. I did knit up a vest with it, but the fit was totally off so I frogged it, and the yarn has been sitting in my stash ever since.
Lana Grossa Meilenweit 4ply
When I bough this yarn, I didn't have a plan for what I was going to make with it, but I did recently use it for my The Other Raglan. Because this wasn't a planned project, I have ended up with a whole ball and a bit left over!
Paintbox Yarns Cotton DK
Another impulsive and excessive purchase, one day I thought it was a good idea to buy a whole bunch of cotton DK in varying shades of grey and black. Again, no project plans, and while some of it has made its way into cotton tops and other bits, I don't absolutely love the way it knits up and I'm still left with a whole lot in my stash!
Sirdar Snuggly 4ply
I actually did have a project in mind when I purchased this yarn, but I fell out of love with it before I got around to knitting it. I worked up a simple jumper with some of it, but I wasn't in love with it and decided to donate it. On reflection, I might treat some of my knits differently if I had a do-over, but when you're uninspired and wanting to simplify your life, sometimes you take the easiest road and just get rid!
Paintbox Yarns Simply Aran
I used this yarn to knit both my September Sweater and Top Gun Bomber, and this is what was left. It's been hanging around for a while, so it would be great to find a little project to use it up!
Millamia Sweden Naturally Soft Cotton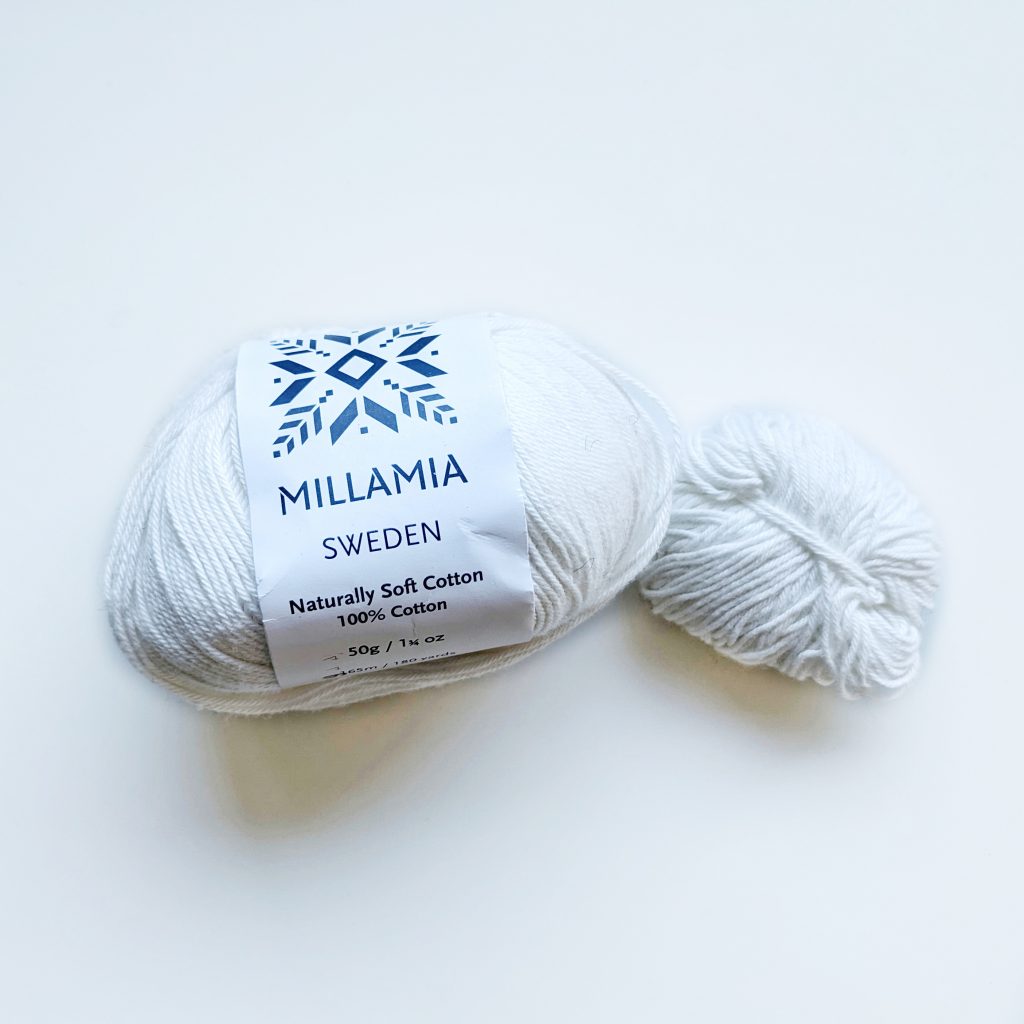 This is the yarn I used for my Freeway Crop knitting pattern, and I do love it. These leftovers have been hanging around for a while though!
Spud & Chloë Sweater
I was trying to remember how I came to have this yarn, but I can't! I have a hazy memory of having a few other skeins and knitting something up thinking that I'd used it all, only to rediscover this one some time later. I've knit a lot in my past though, and I can't remember what I'd made!
Mystery Fluffy DK
This was an unlabelled yarn that my mum picked up in a charity shop. I think it's a DK weight, and there's a fluffiness to it, although that has calmed down a little since I knit it into this jumper and frogged it back to a ball!
Mystery Mohair
I bought this mohair yarn when I test knit the As If Tee, but I can't remember what it is! There's a bit of theme here of forgetting things, isn't there? I imagine I'll hold it with another yarn to add a bit of fluff to an upcoming project…
Unknown Jersey Yarn
I went through a bit of a thing with jersey yarn back in the day, but I found it quite difficult to work with. I think I'm more likely to use this for some macrame than for knitting, which would make for a fun experiment.
Everything Else
These are all my scraps and leftovers. I don't really have enough of anything in one weight to make the kinds of scrappy projects I've seen, but I think it would be cool to find a way to incorporate them all into something.
It's been really helpful for me to document all of the contents of my yarn stash here, and quite a nostalgic trip down memory lane to think of what some of these things used to be. It's time to get pondering, and come up with some ideas for how I can knit these bits up into things that I'll use and love. I do like a challenge, and this is going to be a fun one!