It's been a little while since I shared one of these knitting updates, as August and September were slow months for knitting. I'm learning to let that be OK, to go a little more easy on myself and to forgive myself when I can't commit to one hundred percent regularity. After all, everything always changes, doesn't it?
So, back to October. To be honest, I kind of kicked things off with a bang knitting-wise. On the first of the month, I took a lovely walk with a friend who also knits, and conversation about what we were working on and wanting to knit for the season really inspired me to pick up my needles and puzzle out the project I was working on at the time. If you've not read about my improv ribbed cotton top, you can do so here, but this was when I finally put the effort in and worked out what I was going to do with the neckline. 24 hours later and it was all done!
I wasted no time in casting on my next project, and dove straight in with Knitting for Olive's Hannah Sweater, worked up in this gorgeous Irish yarn from Yarn Vibes that I shared on Instagram when I picked it up back in August. Unfortunately, I didn't have quite enough so I had to order a couple more skeins. I took a little break from knitting while I was waiting for the extra yarn to arrive, but once it did I was back on it and finished up the jumper in no time. The yarn I used is a little more sturdy than what the pattern calls for, I think, so the structure isn't as relaxed, but I'm really pleased with how it turned out. Now, it just needs blocking!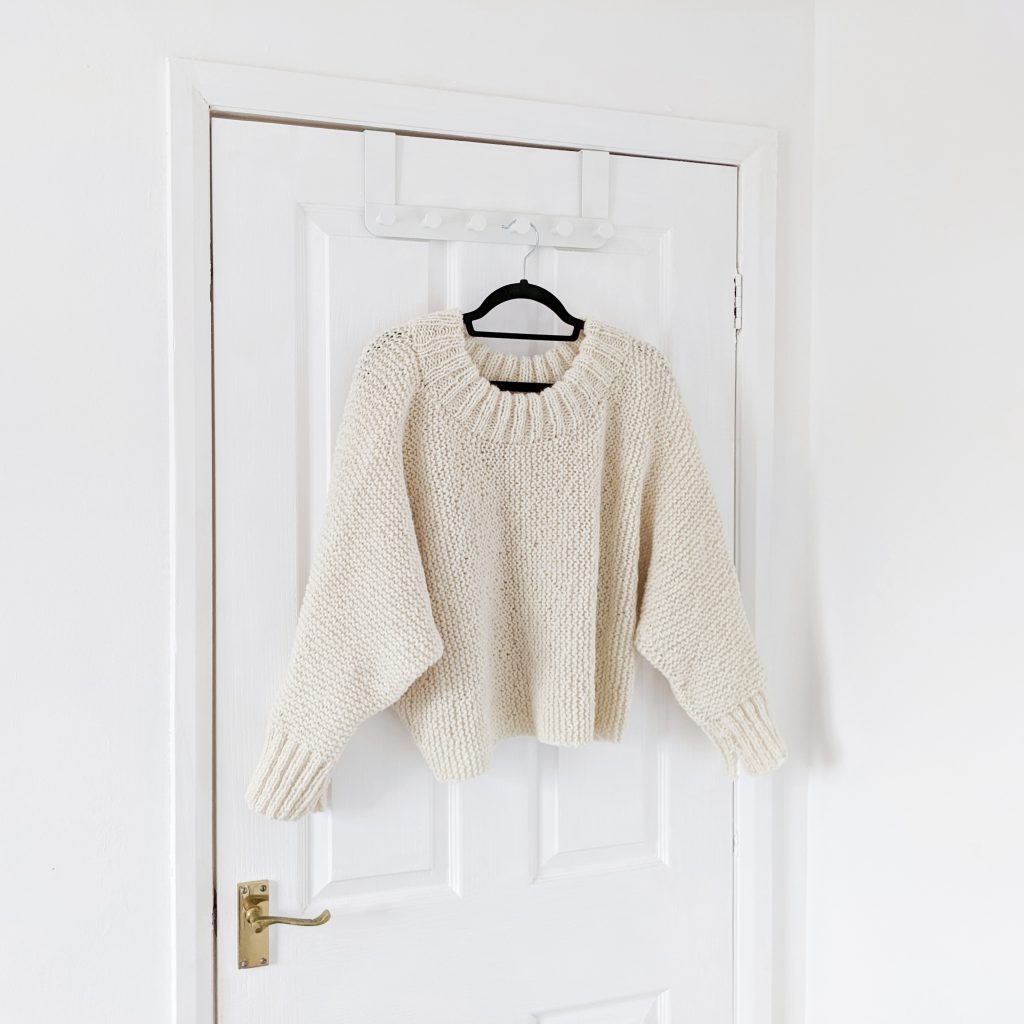 Taking a look through my yarn stash this month really ignited my inspiration and I found myself casting on a new project to use up some of my leftovers. Over the course of just one afternoon I knit up a pair of delightfully fluffy handwarmers, using the Paintbox Yarns Simply Aran and mystery mohair from my stash. I wasn't sure quite how much yarn I'd need, and I had more of the aran than the mohair, so I knit the cuffs in just the aran and added in the mohair for the hands. I have to say, I'm really pleased with the outcome as it means that I don't need to worry about the fluffiness of the mohair making my wrists itch! It's also nice to have a little bit of contrast, too.
I feel like I'm really inspired to knit at the moment, and I'm keen to continue working through my stash. I have a few ideas in mind for things to knit up with what I already have, and a few patterns I've seen that I'd like to purchase yarn for. All-in-all, October has been a good knitting month, and it's looking like November will be, too!