This knitting pattern will always have a special place in my heart. It's one that's been in my stash for many years, thoroughly loved but untouched, until now.
I first came across this pattern over a decade ago, when my lovely late Nannie, my knitting inspiration, offered to make it for me. I clearly remember that I wore it to school one own clothes day, with a vintage pleated skirt and strings of beads, all in varying shades of brown.
The fact that that lovingly-made jumper was beige, was the only thing that held it back. It sat in my wardrobe for years, looked on fondly for its sentimental value, but never worn.
So when I happened upon this pattern during a recent clear out, a plan fell into place.
I'd also been holding onto some mystery yarn. It was a gift from my Mum, found in a charity shop without a label for a mere £2. The colour is a beautiful pale grey, and the texture has just the right amount of fluff to make it look and feel like a cloud, but I have no idea what it is! I did the wrap test to decipher that it is a DK weight yarn, but beyond that, I'm stumped. I toyed with a couple of pattern ideas for it, working up a swatch or two, but nothing seemed to be quite the right fit.
So when I came across this pattern, it felt like a match that had been waiting to happen. I set to work almost immediately, casting on the first cuff of the sweater.
There are a couple of interesting things about this pattern. The first is that it is knit sideways, from cuff to cuff. The second, that it is knit on two very differently sized needles. The cuffs, waistband and neckband are worked with 3.25mm needles, while the body is worked with one 3.25mm and one 10mm.
It definitely took a while to get used to holding the odd needles, but once it did, progress was pretty quick and the effect was beautiful. The 10mm needle creates looser, more open knit stitches which give the jumper is texture, while the 3.25mm needles used on the alternating purl rows keep everything tight so it won't stretch out. Quite genius when you think about it.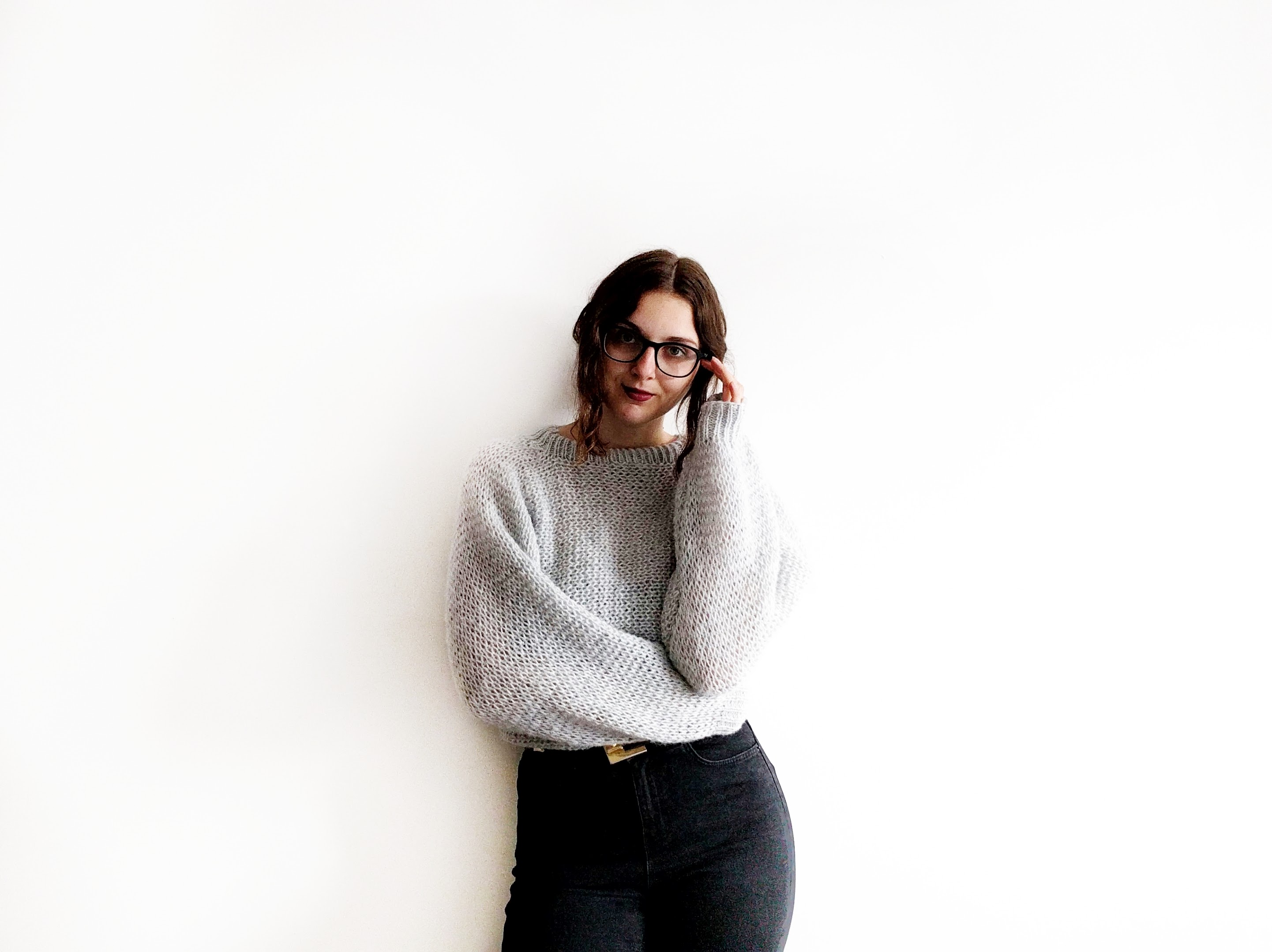 It's incredible what a switch up in yarn can do. The beige jumper felt outdated and really didn't reflect my style, while the same 1980s pattern knit in this pale grey fluffy yarn fits right in with my wardrobe. Plus, it's super warm, so I know I'll get a lot of wear out of it as the weather continues to cool.
Have you worked with any vintage knitting patterns? Have you made one of the Patons Odpins knits? If so, I'd love to know how you got on!