Well, hey friends! How are you doing on this fine Monday? I'm trying to take a little breather after what turned out to be a fairly busy and productive weekend, the highlight of which was the release of my second garment knitting pattern – the Keystone Crop.
The story of the Keystone Crop is a long one, to be honest. Back in the summer of 2017, I got my hands on a couple of balls of Debbie Bliss Cotton Denim DK, and knew that I wanted to knit some vests for the hot weather. These were some of my first attempts at garment designing, and I learned a lot from them, but in the end they just didn't cut it.
The first was a high, halterneck vest with some shaping at the front. I was really into that look, but I just hadn't got the fit right and the back kept falling down to reveal my bra, and with it a little too much side boob for me to feel comfortable. The best thing to come out of this attempt, though, was learning how to do the i-cord. I absolutely love that technique, and I know I will use it a lot in my knitting!
The second not-so-successful design took a similar vein. It was another halterneck, and while the fit of the body was a little better with this one, there just wasn't enough in the length and it felt far too revealing. The best thing about this one was the shaping of the neckline, and I'm certain I'll incorporate that into another of my designs in the future. It just goes to show that there's always a lesson to learn, and something positive to take from a project, even if it ends up frogged!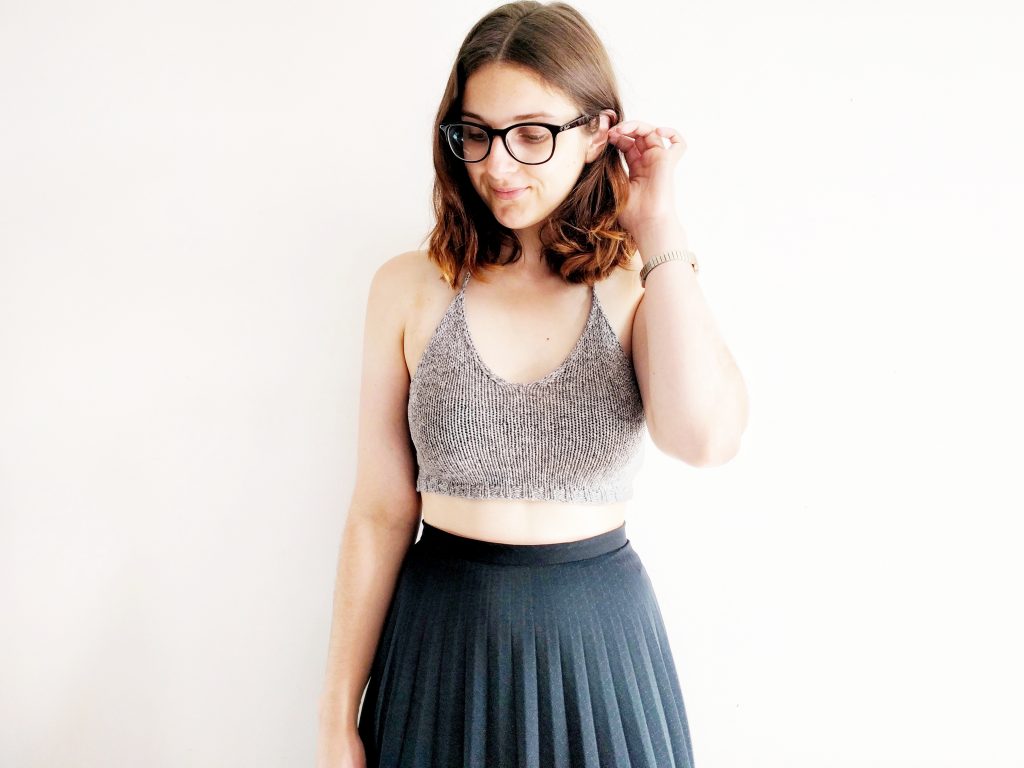 And that's exactly how both of these initial designs ended up. They sat in my wardrobe for a while, but when I knew for sure that I just wasn't reaching for them because I wasn't comfortable in them, something had to give.
So I set about Cotton Denim DK version 3, and this time I decided to take the pressure off. Instead of consistently detailing my notes and decisions as I designed the vest, I just went with the flow and let the outcome be what it may. The result was, of course, the best of the three and it soon became a summer staple in my wardrobe.
This year, when I finally took the plunge and started designing garment patterns, I looked back on my past self with exasperation. Why hadn't I taken notes on what was now one of my favourite ever knits, and one I wanted to share with the world?
But I'm not one for regrets, so I examined the vest to decipher the techniques I had used and I wrote up the notes as best as I could. I'm pretty sure they were very close to the original design, and they were definitely an excellent foundation for my testers to build on with their feedback.
The testing process for this vest was quite an intense one. I had graded to include 5 sizes – two more than my first garment design – and it was a steep learning curve.
It's so hard trying to imagine how something would sit on a different body shape, and I've learnt that standard sizing isn't something you can rely on entirely. We ended up with some completely unwearable test knits, but together we were able to tweak the maths to make it work.
It also became apparent that, just because something was great on my body shape, doesn't mean it would translate to everyone else's. Most of the test knits were too low and revealing for their makers to feel totally comfortable, so it was important to update the design to fix that.
I lengthened the body and shortened the straps, to keep the same style and shape, just with a bit more modesty. That, of course, meant that I had to knit another one – to test that the pattern was right, and also to take pictures of the final vest.
I powered through that knit as quickly as I could, because I was desperate to get the pattern out into the world, and I'm really happy with how it turned out!
All of those hours spent knitting, calculating and adjusting are totally worth it, and it seems that you guys think so, too, because so many of you have already bought the pattern!
I honestly can't tell you how much it means when you purchase one of my designs. All I want is to create modern patterns that people want to knit, and I'm so grateful for everyone that is making that possible.
I'm so excited to see how you all knit up your Keystone Crops – that's definitely the best part about being a designer! You can find the Keystone Crop pattern right here, if you want it.
If you're making one, don't forget to tag me on Instagram @knitspleaseuk and use the hashtags #knitsplease and #keystonecrop.