Once I'd finished this halterneck vest a few weeks ago, I was really excited to still have a whole ball of Debbie Bliss Cotton Denim DK left over. It was pretty much an immediate decision to make another vest – there's only so much knitwear you can wear when it's 30C outside, so I wanted to keep to the theme of Summer.
After seeing more and more of the lovely Janine's designs, and discovering Plexida on Etsy, I was inspired to try a simple v-neck shaping. To me, its simplicity is really in-keeping with my personal style, and it gave me yet another excuse to incorporate an i-cord (an obsession which I really can't stop talking about!).
Like my previous vest, I worked the main part of the body in the round. Ever since I knitted that first sweater in the round, I've become obsessed and will avoid having to sew seams at any and all opportunities! I then cast off the back stitches, and continued working straight to make up the front.
I actually used symmetrical decreases on each side to create the triangles, eventually working down to just three stitches which I then used to knit the i-cord straps. Oh, how I love them!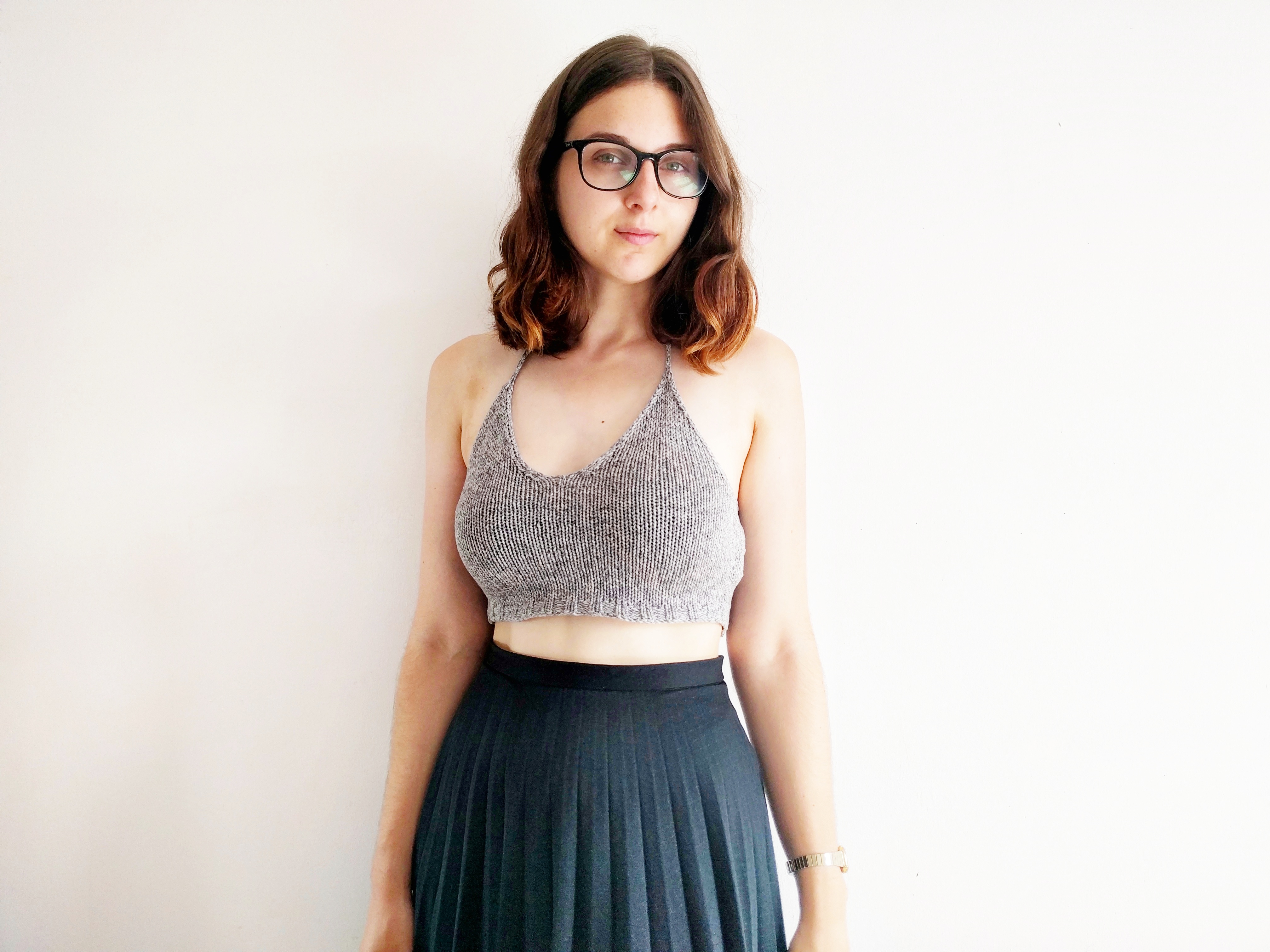 For another improvised design, I'm again really happy with how this vest turned out. I was sure to cast on fewer stitches to avoid the looseness I found with the last halter, and I can definitely feel the difference. If anything, I'd add a little length to the main body just for a bit more coverage but it's for sure something I can live with as it is!
I'll be wearing it with high-waisted skirts throughout the Summer, but I'm also hoping it'll transition to the cooler seasons and work as a great layering piece under shirts and cardigans. I'm also so tempted to knit up a few more in different shades to see me through the Summer, but I'm on a major stash-busting mission so I've gotta stick to my own rules and not buy any more yarn!
I do, however, have a little of the Debbie Bliss Cotton Denim DK left over, so I'll be having a good think about what to do with that!