So 2016 has been a pretty awesome year for me. After all, it was the year that started Knits Please and, hopefully, a new path for my future. I've really found my stride with my knitting, I'm definitely establishing my personality more in what I make and I'm so, so excited to continue to share that with the world!
Knits Please only started in September, and I can't believe how much has happened since then! I've reached over 500 followers on Instagram, created my first ever knitting patterns (and sold some!) and was even commissioned for some custom orders. It's more than I could have imagined for my first few months, but what I really wasn't prepared for was the incredible support I've received. My friends and family have been cheering me on the whole way, and I've found myself in the middle of the most inspiring, uplifting community on Instagram. I can't get over how awesome you all are, and I really hope that I get to know some more of you next year.
So while I've only got four months to look back on, I wanted to revisit some of the highlights of 2016, and what better way than through my best nine?!
Here I was making up a little swatch for an effect I wanted to create, kind of like a rib. I alternated rows of S1 S1 K1, and all purl and the result was a beautiful, dense and gorgeously textured knit. I haven't used it for a project yet, but I hope to do so soon!
I love to wear homemade socks in the winter time. There's just something so cosy about them that I can't get enough of, and I wanted to create a pair that fit with my current knitting style (instead of the self-striping socks of days gone by!). I'm super pleased with how they turned out, and how they've been keeping my toes warm on these cold winter days!
This was the first thing that I ever knit for my boyfriend, Sam. It's just a simple black beanie hat to keep his ears warm in the cold, but I've since added hand warmers and cosy socks to homemade collection. I think he likes them!
I had a little leftover aran yarn from the cushion covers I made, so I doubled up the strands to create a bobble hat from a chunky pattern I found online. I topped it off with a pom pom and shipped it off to my lovely friends at Knit Aid. I hope it's helping to make someone in need feel a little warmer at this festive time of year.
This was my first big experimental piece of knitting, and I have to say I am so pleased with how it went. I had the vision for what I wanted to create in my head for ages, and I was finally able to adapt two 1980s patterns I had, with a little creativity, to realise this cropped knit. I guess those GCSE maths lessons do come in handy after all, when you're calculating your own increases and decreases!
After designing the RILEY cushion cover in my first range of patterns, I was desperate to knit up a second so I could use them at home. I really love how this dense stocking stitch looks, and, as a huge colour block fan, I couldn't resist the matching mustard!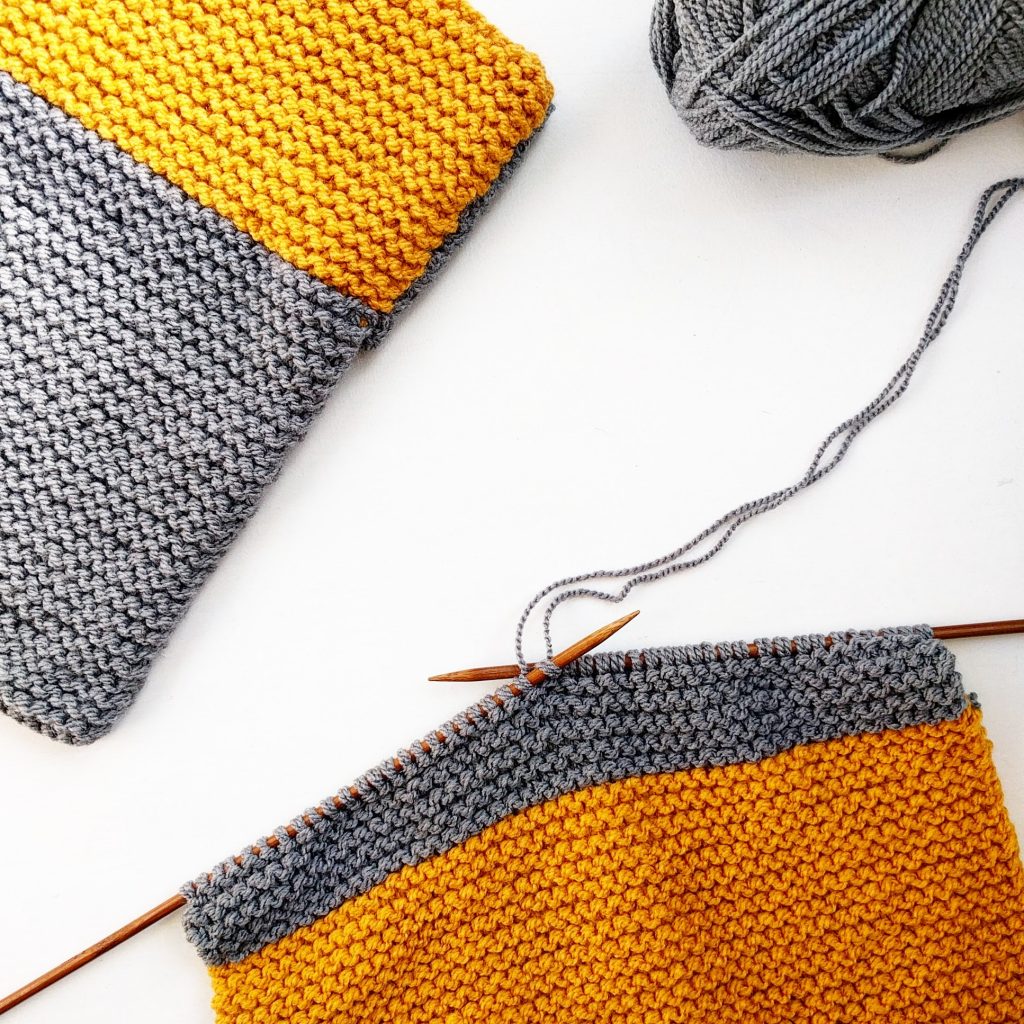 It's the RILEY cushion again! I guess you guys really loved this one, and I can see why as I feel the same way! I was super restless when I was making this second one, as I just wanted them to use them, so I think I worked late into the night to get it finished in two days!
This is the back of my latest experimental creation, and I'm pleased to say that this one also turned out well! After knitting the sleeveless roll neck above, I was desperate to make up something similar with long sleeves that I could make the most of in this cold weather. I did a LOT of adapting with an old pattern as my guide, utilising those maths skills again, and managed to fashion something wearable. To be totally honest, it's a bit short so I won't be throwing my arms above my head when I'm wearing it, but we can get by with that can't we?
This was the first order that I was commissioned to make and it was a real achievement for me. It took a fair bit of experimenting to get the pattern just right, but the time was so worth it when I finished and saw the final product! I've since sold a few of these hats, all with positive reviews so I must be doing something right! This may well be my proudest achievement of 2016!
So there we go! It's quite amazing for me to see all of these memories and achievements laid out together, and to learn what people have responded to the most. Most of all though, I can't wait to do it all again in 2017, and have you guys along for the ride!