My first collection of patterns have really been designed to be super clean and simple knits that everyone can enjoy, and the RILEY CUSHION is one of my favourites. It's worked in a basic garter stitch, so it's perfect for beginners, but there are a few things in there to give it a bit more character!
I remember when I was first learning to knit, all those years ago with my Nannie by my side, dropping stitches left and right and all I could master was garter stitch. For a long time garter stitch felt to me like the easiest stitch, used for learning but not for making and a sign of a newbie knitter. Oh how wrong I was! Now, I have nothing but love for garter stitch. The uniform ridges, the neat lines, the beautiful contrast when you switch up colours. It's become quite the love affair, which I guess is why there's so much of it in this collection!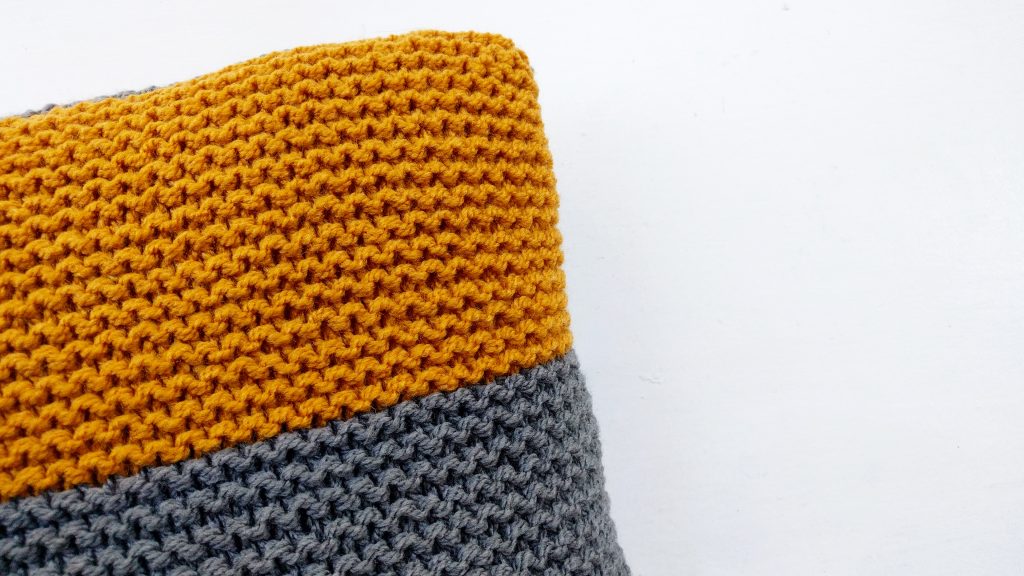 The RILEY CUSHION takes garter stitch and gives it a little bit more. Worked in two strands of Aran yarn on 5.5mm needles, the knit is dense, spongy and totally squeezable – Riley is designed to be used, to be hugged and loved!
The main pattern design calls for a contrast panel which requires the simplest of colour switching, and finishing entails only sewing two seams and weaving your ends, so if you're new to knitting, this project is perfect for you!
I'm keen to try a few variations on the RILEY CUSHION, knitting with two different colour strands, going all out on stripes and maybe even getting some typography involved! I'd love to see how you guys get on too, so if you give Riley a go share your pics on Instagram with the hashtags #knitsplease #rileycushion.
Click here to get your hands on the RILEY CUSHION pattern now.